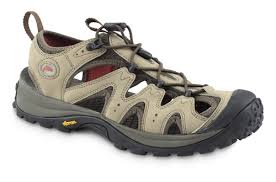 After months of searching, I'd finally found the perfect wading sandal for my small stream fly fishing – the Simms Streamtread.  They came with great reviews, and when they arrived, I was loving them.  They fit super comfortably and the Vibram soles provided the perfect balance of dry ground hiking and minimal slippage in the water.  But they had one problem.  After about a dozen fishing trips, the stitching on the elastic material around the ankle started coming apart on both sandals.  A minor problem, but they were sure to go downhill from there if not addressed, so I sent them in to Simms for repair.  Simple, right?  Actually, a huge mistake.
After no word from Simms about the sandals for a week or two, an email in my inbox explained the sandals were not repairable and they would be sending a new pair.  Awesome, right?  Nope.  I got the box in the mail, and in it was a pair of Rip Rap wading sandals, a model I'd looked at before going with the Streamtread and decided I didn't like the style.  But here they were.  Simple mistake.  Just send them back and get the right sandals.
After getting bounced around the phone lines at Simms HQ and waiting on hold for twenty minutes, I left a voicemail explaining the problem.  Figuring it might not be enough, I followed up with an email explaining the situation.  Then I was back into the woods for a week.  I figured there would be a pair of sandals waiting for me when I returned, but there wasn't so much as an email, voicemail or text responding to me.  Actually, I take that back.  I did have an email from Simms – a request to fill out a survey of my customer experience.  Any idea how I filled out that thing?
Today I finally got on the line with someone from Simms.  Apparently the Streamtread is discontinued, and the Riprap is the next closest model, so they decided to send it to me instead, with no explanation.  If I'd had the choice I would have gladly taken back my old defective sandals, eaten the shipping cost and couple weeks of lost usage on the water, and found a friend to stitch up a repair.  But that's not an option.
"What if I don't like the Riprap sandal?" I asked.  "Can I get a refund?"
"Well, you can return them and you will receive a credit toward the purchase of another sandal.  If the new sandal costs more than the credit, you would just be responsible for paying the cost difference".
How nice.
"And what if I don't like the other options you have for wading sandals?  Can I just get a credit to purchase a different product from you, like wading boots or waders?"
"No, you can't do that.  You would have to use it toward a similar item, which would be wading sandals".
Beautiful.
"Okay, thanks" I politely replied. " You'll be hearing from me.  Bye".
Wise people say that when an interaction really ticks you off, you should wait 24 hours to cool down before any type of response.  But this one's been brewing for more than a month, so I'm venting.
To the folks at Simms: You guys have built an incredible brand on the back of attention to detail, product quality, and a stellar relationship with customers that successful small companies excel at.  You're big now, and it's easy to shrug off a negative customer interaction here and there.  Please don't.  Realize that everyone's a media company nowadays, and bad news about brands spreads quicker than ever.   On the flip side, a positive interaction would have won me over as a complete Simms loyalist.
In the meantime, I realized a couple of things.  First, if you're the type that finds a product you love and sticks with it, prepare to be disappointed.  In today's world, product models change constantly, with each manufacturer racing to have the next hot new item on the shelves.  In fact, I found the Streamtreads after my Korkers wading sandals wore out.  The model was discontinued and there was no similar replacement.
I also learned that there are other good options out there.  In a pinch with no wading sandals, I found cheap used pair of Keen sandals.  I've fished with them about fifteen times since then, and I'm very impressed.  They're very comfortable and wear well off the stream.  They're a bit slippery on the rocks, but other than that I have no complaints.  So I might need to explore other options, because no doubt there are good ones out there.  Too bad L.L. Bean doesn't make a pair…..yet.
Now don't get me wrong.  If I find a cheap pair of Simms Streamtread sandals in my size I'm picking them up.  And if the guys at Simms read this and my damaged sandals are sitting in a trash bin at HQ, please send them my way and I'll sing your praises.  And you know what?  I may even grow to like the Rip Raps.  You never know.  But I've got a bad taste in my mouth, and I don't like it.  It's too bad, because I loved those guys.  Now I just like 'em.  Back to fishing.