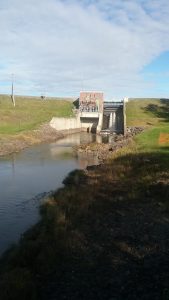 I became an avid fly angler during my years out West, so it was tough to return to Maine where the fishing season ends September 30th.  Fortunately, one body of flowing water was open to fishing near home, and almost nobody else fishes it, so I had it to myself.
It's a tailwater without much habitat except for the short stretch near the dam, where the stocked fish stack up in the deep water and provide enhanced fishing where it otherwise wouldn't exist.  It's pretty cool.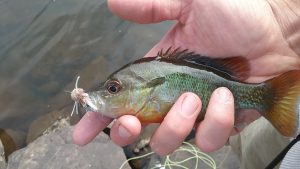 The salmon aren't always biting, but when they're not, an angler can't be too proud.  I had fun catching dozens of redbreast sunfish that had dropped down from the lake and hung out in the dam pool
Catching the salmon was the ultimate, but there were a few other interesting catches in between, including the numerous sunfish, a few yellow perch and fallfish, one or two small, skinny wild salmon, and a brook trout. Brookie was confused. He thought he was moving upstream to spawn, but hit a roadblock at the dam, miles away from any suitable spawning habitat. I offered him some advice and directions before sending him on his way. Not sure if it worked out.
Fall fishing was a blast, and helped shorten the time between seasons in a place where winter lasts half the year.